What are MAZDA Certified Pre-Owned Models?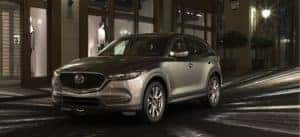 When you begin the car shopping journey, you will quickly discover that there are many decisions to make before hitting the road. One of the first is choosing whether to go with a new, pre-owned, or Mazda certified pre-owned vehicle.
At Superior Mazda, you can rely on our team of experienced professionals to walk you through this process. Many drivers are not aware of the advantages of Mazda certified pre-owned vehicles. Before you visit, discover why this option may suit you best.
Certified Pre-Owned MAZDA Vehicles
While a brand new vehicle is usually preferred, it's not always practical or affordable for many drivers. The pre-owned Mazda models at our Bentonville, AR Mazda dealership are inspected for quality but do not offer enough peace of mind for some.
Mazda certified pre-owned models are the middle ground. Mazda certified pre-owned cars and SUVs are previously owned vehicles that meet high standards set by the manufacturer. They must pass an intense 160-point inspection and have lower mileage.
They each come with a 12 months or 12,000 mile limited vehicle warranty and a seven-year/100,000-mile limited powertrain warranty. Furthermore, if there is a problem with a covered part, the total out-of-pocket cost will be zero at Mazda dealers throughout the United States.
Why Buy Pre-Owned
In addition to a lower ticket price, there are other reasons that Mazda certified pre-owned models are an ideal option. In the first year of ownership of a brand new Mazda CX-5, it could experience up to 30 percent of depreciation. A Mazda certified pre-owned model could help you dodge some or all of this lost value.
If you love the latest automotive technology features, why not get them for less with a slightly older model? Finally, experience additional savings on insurance premiums and annual registration costs with a Mazda certified pre-owned vehicle or pre-owned Mazda model.
There's no better time to upgrade your vehicle to a sleek Mazda certified pre-owned vehicle. Browse our inventory and visit Superior Mazda for a test-drive today!