Service Tips: How to Get Your MAZDA Ready for Spring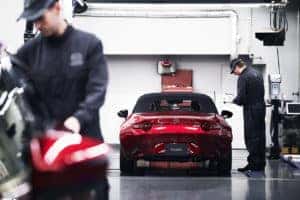 When spring approaches, your house and yard are not the only things that could use cleaning. Providing your vehicle with Mazda service and refreshing its look with a wash are ideal ways to roll into the hotter months.
At Superior Mazda, our team of experienced technicians have tips on how you can get your car feeling like-new again.
Car Detail
Keeping your car clean with car washes from the local gas station every couple of weeks is how many car owners maintain the shiny appearance of their Mazda CX-5. When spring rolls around, treat your car to a more thorough bath and detail at our Mazda dealership in Bentonville.
Using specialized tools and cleaning agents, professionals will clean out all of the nooks and crannies. This service is intended to bring your car back to feeling and looking like the day you purchased it.
Maintenance Schedule
If your focus was elsewhere during the winter months, spring is an ideal time to revisit your maintenance schedule and ensure you're caught up.
Your schedule should include routine services like oil changes, fluid top-offs, brake inspections, and filter replacements. If you have fallen behind, be sure to give us a call to make an appointment.
First Aid Kit
You never know what can happen on the road. Keeping a first aid kit in case of any injury on the road can be a great source of peace of mind. In your kit, you should have bandages, tape, and gauze.
You should also have antibiotic ointment and other liquids that have expiration dates. Check these dates and refresh your inventory if they are past their date.
At Superior Mazda, we're always pleased to help you stay safe and satisfied in your vehicle by sharing our automotive knowledge. Whether it's for a new car or a quick tune-up, we hope to see you soon.