Visit Superior MAZDA for the Professional Service Your MAZDA Automobile Deserves
For decades, Mazda automobiles have been among the industry leaders in terms of reliability, performance, and quality – and the best way to maximize these traits is through regular Mazda service. With our experienced technicians caring for your vehicle, expect maximum mileage and enjoyment.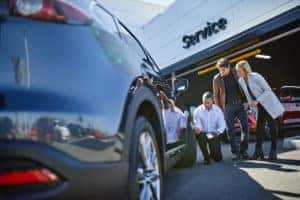 Why is MAZDA Service Important?
Even though today's automobiles are far more technologically advanced than their predecessors, regular Mazda service and genuine Mazda parts are no less essential.
The current Mazda lineup relies on a complex array of mechanical systems and components to deliver exceptional performance. From time to time these components require service and replacement to reaffirm their quality.
Wear and tear brought on by weather, mileage, and the simple passage of time is unavoidable. Superior Mazda encourages its customers to stay ahead of the curve by remaining true to the services outlined below.
MAZDA Service Checklist
Whether you drive a brand-new Mazda car or a pre-owned Mazda SUV with some miles on it, regular service is equally important. Listed below are several of the most common maintenance procedures that benefit all types of vehicles.
Oil and filter: Depending on your car's age and the oil it takes, these components will need changing every 3,000 – 5,000 miles.
Tire rotation: Bring your car in for a tire rotation every 6,000 tp 8,000 miles. This will help evenly distribute wear and tear between all four tires, thus increasing their lifespan.
Battery and cables: Your car's battery should be inspected at a similar frequency as the oil and oil filter.
Wipers: Wiper fluid requires refilling every three months or sooner, depending on the season. Regarding the wiper blades, these should be checked every six months.
Brakes: Every 12 months is a good target for having your brakes checked and cleaned. Brake repair and replacement depends on how you drive, how frequently you drive, and the kind of brakes your car has.
Steering and suspension: A yearly checkup is needed for these important systems. During this checkup, our local Mazda service center will also check your car's power steering fluid.
Get Experienced MAZDA Service Today
As long as you commit to a regular service schedule, maintaining your Mazda car should be easy. For more information and our latest Mazda service specials, visit our local Mazda dealership. Here you'll find the support you need to get the most out of your Mazda vehicle.