MAZDA Tire Options at Superior MAZDA in Bentonville, AR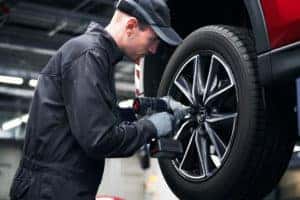 Mazda cars offer plenty of options when it comes to trim levels, drivetrains, and engines, but those aren't the only choices you have when it comes to your new Mazda vehicle. Most also offer different tire options, which can help you get the most out of your new car.
We make it easy to find the tires that you need at our Mazda dealership and tire center. So if you're a driver in Fort Smith, AR and you're wondering "Where can I find Mazda tires near me?" the answer is Superior Mazda!
All-Season Tires
These types of tires are just what they sound like. They're made to offer reliable performance, grip, and traction all year round. If you take good care of them at our service center, they'll take good care of you even in inclement weather and on all types of roads.
Winter Tires
Winter tires are specially designed to drive through cold and snowy conditions. While we don't experience those often here in Bentonville, AR, these tire options can still be a good idea for local Mazda drivers who frequently drive up north and might encounter roads covered in snow and ice.
Fuel-Efficient Tires
These tires are available on some Mazda sedan models. They are designed to offer the traction you need while reducing your fuel consumption. If you're concerned about your carbon footprint or simply want to take fewer trips to the gas station, these specialized Mazda parts might be just what you're looking for.
Brands to Choose From
Once you've chosen the type of tires you want from our Mazda service center in Bentonville, you probably still have some different options to choose from. That's because Mazda tire centers don't just offer you a variety of tire types to pick from.
There are also different brands to choose from, including:
· Bridgestone
· Dunlop
· Kumho
· Toyo Tires
· Yokohama
· Hankook
· Goodyear
Our Mazda dealers make it easy to find the tires you're looking for, so why bother going anywhere else for your automotive needs? Visit our Mazda dealership today. We'll help you find the tires you need, and the skilled technicians at our service center will help you take great care of them for years to come.